---
---
Con Brio's Seventh European Concert Tour, visiting Croatia and Slovenia, takes place from May 23 to June 6, 2018.
Explore two countries, each with a rich, cultural heritage. The Tour includes outstanding concert venues, featuring joint performances with local choruses; exploring historic cities, including the Roman city of Split; enjoying the great natural beauty of the Istrian Peninsula and Plitvice Lakes;  sampling the splendid regional cuisine and local wines; staying in luxury 4-star hotels; and touring one of the world's loveliest coastlines, with its clear waters and wonderful beaches.
Highlights
All hotels are hyperlinked, so you may click-through and browse
The 2018 Tour begins in Zagreb (2 nights) , the historic capital of Croatia. Con Brio will perform a concert in Zagreb. Hotel Dubrovnik
The Tour continues to Ljubljana, the capital of Slovenia, (3 nights), with day excursions to the world-famous Postojna Caves, Lipica Stud Farm (Lippizaner horses),  and Lake Bled. Con Brio will perform a concert in Ljubljana. Grand Hotel Union 
Returning to Croatia, the tour moves to the coastal town of Opatija (2 nights), where Con Brio will perform a concert. There is a day excursion to the historic and beautiful Istrian Peninsula   (short video courtesy of Croatian National Tourist Board), including Poreč, Rovinj and Pula.  Remisens Hotel Palace Bellevue
The Tour continues to the Roman city of Split, (3 nights), stopping en route at the celebrated Plitvice Lakes National Park with its many lakes and waterfalls. Con Brio will perform a concert in Split. A day cruise of the world-heritage Dalmatian Coast is included, as well as a tour of Diocletian's Palace. Hotel Dioklecijan 
The Tour ends in Dubrovnik (3 nights) with a further concert,  and a day excursion to  the ancient city of Cavtat. Dubrovnik Palace 
Advantages of a Con Brio tour
The tour includes round-trip air travel from a New York airport, luxury, four star hotel accommodations, local guides, admission to all attractions, all excursions, all breakfasts, one lunch, two dinners, and post-departure cancellation insurance. Con Brio will enjoy its own dedicated luxury motor coach and driver, and its own professional, multi-lingual Tour Guide, so that all arrangements, visits, and transfers  run safely, effortlessly and seamlessly.
All Con Brio tours are professionally researched, planned and executed by Cultural Tour Consultants, of Kalamazoo, MI. In addition Con Brio has a supervisory board of experienced travelers to oversee all arrangements, based on the cumulative experience of the previous six tours.
Welcoming non-members
The Tour is open to all Con Brio Members, spouses and friends, as well as non-members. Non-members may join the tour  as singers, or non-singers. Con Brio tours is warm, inclusive group that reaches out to those joining a tour for the first time. Con Brio especially welcomes those venturing abroad for the first time, who will enjoy the security and ease of well-organized group travel, while still offering plenty of down-time for private exploration, sight-seeing, or simply relaxing in the sun, or in a café.
"What fabulous Concert Tours traveling with Con Brio!  My favorite thing is to meet and sing with other choir members, native to the country we are visiting …and to realize music is the universal language that binds us to our new-found choir friends!"   Wanda Barnes, North Carolina
"How could I even pick a favorite moment? It was all so great. I've been on a few different tours over the years, and the Con Brio tours stand out for being really well organized–well paced, well chosen hotels, a great mix of #1 sites with off-the-beaten-path gems, excellent concert venues. Sign me up for 2018!"
Ransom Bruce, New York City
Learn More
For specific information, contact Abby Bruce, Tour Director. Email or call (860) 448-2424. To add you name to the Tour email list, contact Rolf Petersen. This will ensure that you will receive all updates, without obligation.
PowerPoint Presentation download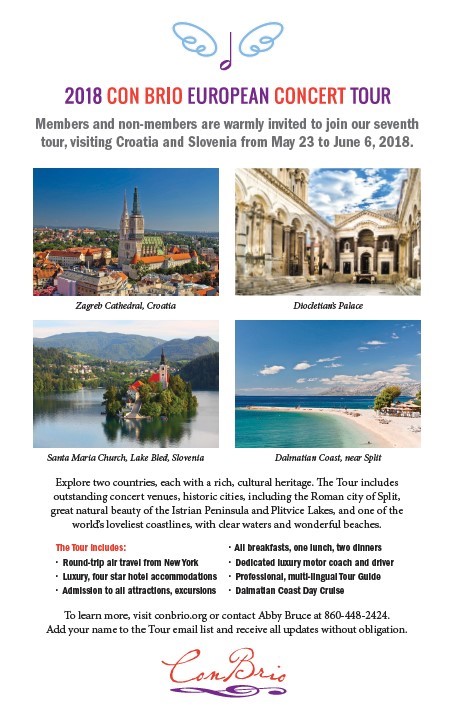 Download and share the one-page flyer, shown here.
Please also visit this page frequently for updates.   Also look for postings on Con Brio's Facebook page. Please 'like' the page so you receive automatic updates, and 'share' with your friends.