Saturday December 9, 2017 at 8 pm,  at Christ the King Church, Old Lyme, CT
Sunday December 10, 2017 at 3 pm, at Christ the King Church, Old Lyme, CT (SOLD OUT)
The Saturday performance took place as scheduled. Please note that unused Saturday tickets are not valid for the Sunday performance.
Con Brio Choral Society, Con Brio Festival Orchestra, Danielle Munsell Howard, soprano, conducted by Dr. Stephen Bruce
Imagine sitting in the center of the bright, high-ceilinged space of Christ the King Church in Old Lyme. The music begins. First from behind you. Then to your left, your right, up in front. It is surround-sound live – provided by the voices of the Con Brio Choral Society arrayed around the great space. As each of nineteen – nineteen! – parts begin to sing, the sound moves from place to place, the voices echoing one another, harmonizing and weaving a musical fabric that envelopes you. It's like no Christmas concert you have ever attended…unless you have been to one of Con Brio's Christmas Concerts before. Attend one of this year's concerts and experience a musical treat to calm your mind and move you into the Christmas spirit.
Under the baton of Dr. Stephen D. Bruce, Con Brio will perform with the professional 31-piece Con Brio Festival Orchestra, and soprano soloist Danielle Munsell Howard, acclaimed by Opera News Online for her "bright, pretty timbre and remarkable facility."
Con Brio's popular Christmas Concerts will surely ignite the season with John Rutter's marvelous  Magnificat. Con Brio has sung many Magnificats over the years; Rutter's setting manages to maintain the traditional approach to the well-known text while infusing it with lush contemporary harmonies and textures.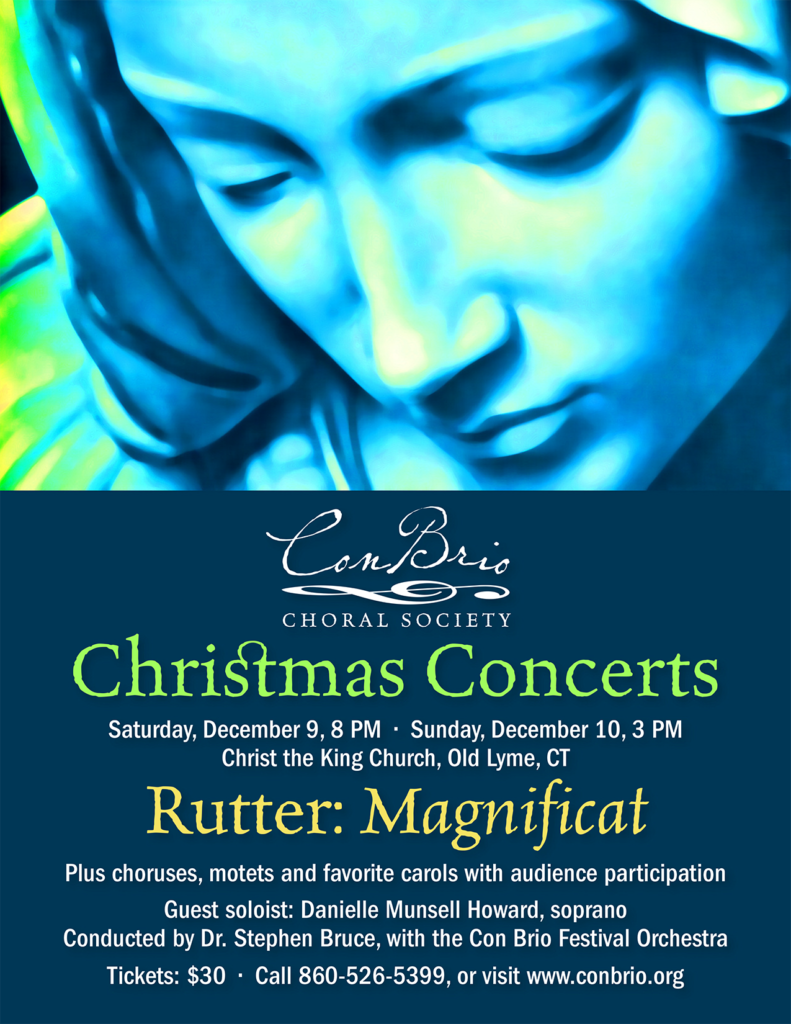 Soloist Danielle Munsell Howard, has a voice perfectly suited to expressing the purity and wonderment of Mary. The choral movements range from the delicacy of Esurientes (The poor) through the pulsing power of Fecit potentiam (He has shown strength) to the grand thrill of the Gloria Patri.
Stunning is the word often used to describe Morten Lauridsen's Sure on This Shining Night. It's glistening harmonies and mellifluous melodies so clearly express poet James Agee's text and the magic of a December night. In 2007, two years after this piece was composed, President George W. Bush awarded Dr. Lauridsen the National Medal of Arts, the highest artistic award in the United States.
Two pieces will be sung in the round—by now a Con Brio tradition. The chorus loves to take advantage of the spacious and acoustically gracious sanctuary of Christ the King Church. First will be the a cappella, eight-part, antiphonal motet, In Dulci Jubilo, by 15th-century composer Michael Praetorious. That will be followed by the splendid 19-voice Buccinate (Blow the trumpet), by Giovanni Gabrieli.
Other pieces include Fum Fum Fum in a playful arrangement by Mack Wilberg; Pietro Yon's familiar Gesu Bambino which will feature the soprano soloist; Still, Still, Still in a special arrangement for chorus and harp; perennial favorite Es ist ein Ros' entsprungen (Lo, How a Rose); Hodie Christus natus est (Today Christ is born) is one of the greatest renaissance motets; and Claude Debussy's spritely and expressive Yver, vous n'estes qu'un villain (Winter, you are nothing but a villain).
Also, Con Brio will perform a rousing arrangement of the famous spiritual, Go Where I Send Thee. The concert will close with Stephen Mager's wonderful arrangement of Ding Dong Merrily on High, which starts with a simple rendition of the familiar melody, accompanied by winds, and slowly transforms it into a thrilling finale featuring the full orchestra.
As always, each Christmas concert will include carols for audience participation.
Magnificat John Rutter
_____________________
Prophecies Fulfilled
Es ist ein Ros'  Michael Praetorius
Hodie Christus Natus Est Jan Pieters Sweelinck
Gesù Bambino Pietro Yon
Winter Nights
Still, Still, Still David Brunner
Sure on This Shining Night Morten Lauridsen
Audio clip Sure On This Shining Night  from Nocturnes (excerpt)
Composed by Morten Lauridsen, poem by James Agee, performed by The Singers.
Audience Carol
Hark, the Herald Angels Sing arr. David Willcocks
In the Round
In Dulci Jubilo Michael Praetorius
Buccinate Giovanni Gabrieli
Christmas Fun
Deck the Halls arr. David Willcocks
Fum, Fum, Fum arr. Mack Wilberg
Audience Carol
O Come, All Ye Faithful arr. David Willcocks
Merry Christmas
Go Where I Send Thee arr. Caldwell and Ivory
Ding Dong Merrily on High arr. Stephen Mager
Magnificat by John Rutter is a musical setting of the Magnificat, the Song of Mary, and a perfect choice for Christmastide. It was completed in 1990. The extended composition in seven movements for soprano solo, mixed choir, and orchestra. It is based on the Latin text, interspersed with "Of a Rose, a lovely Rose", an anonymous English poem. The music includes elements of Latin American music.
The composer conducted the first performance in Carnegie Hall on May 26, 1990, and the first recording with the Cambridge Singers and the City of London Sinfonia.
While the Magnificat has been very often set to music, being a regular part of Catholic vespers and Anglican evensong, Rutter's work is one of few extended settings, along with Bach's composition (performed by Con Brio in December 2000 and December 2011).