Grantor 
State of Connecticut, Department of Economic and Community Development, Office of the Arts 
Con Brio gratefully acknowledges the award of a FY 18 grant, as part of the 'supporting arts in place' program.
Affiliations
Chorus America
Chorus America is the advocacy, research, and leadership development organization that advances the choral field. It supports and serves choral conductors, administrators, board members, and singers with tools, training, peer networking, and access so that choruses are better able to contribute to their communities.
More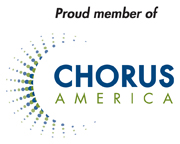 than 4,500 choruses, individuals, businesses, and organizations are members of Chorus America and have access to a wide array of programs, publications, research, and personal services developed for their benefit. These services strengthen their ability to build strong organizations that foster quality choral
performances.
Read the Choral Impact Study (pdf) to understand how choruses enrich the fabric of our  lives. 42 million Americans take part in 270,000 choruses.
Association of Connecticut Choruses


The Association of Connecticut Choruses (ACC) is a non-profit organization of community, festival, college/university and church choirs, and individual singers that was established in 1981 to promote and encourage choral music in Connecticut. Visit the ACC website for details of upcoming choral events in Connecticut
ChoralNet 
The home page of the American Choral Directors Association. The mission of the ACDA is to

inspire excellence in choral music through education, performance, composition, and advocacy. Visit ChoralNet for a complete listing of choral concerts, nationwide
Shoreline Arts Alliance
A premier source of cultural events and competitions for people of all ages